Watkins set to become Peoria County Sheriff after primary election victory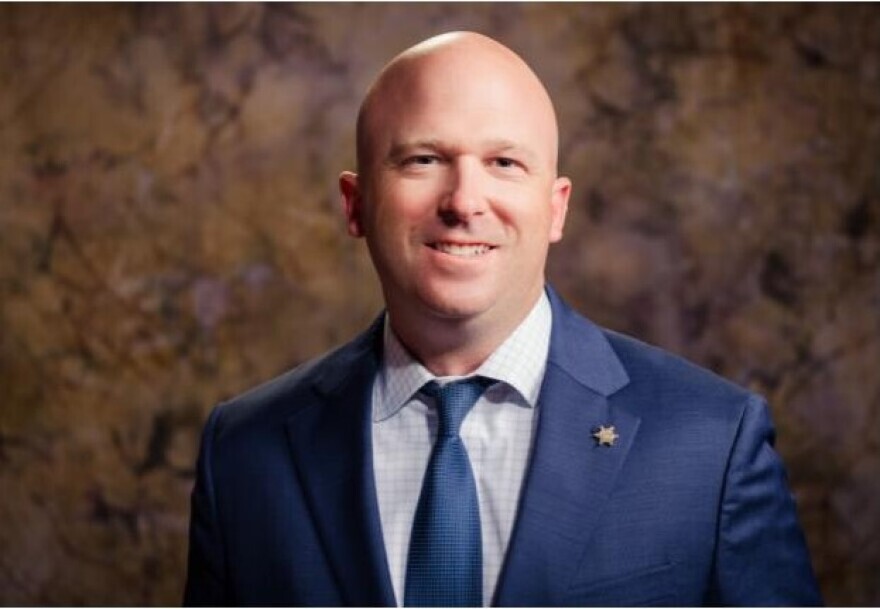 Peoria County Sheriff's Capt. Chris Watkins says he's eager to address issues facing the department as the next sheriff.
Watkins, an 18-year veteran of the Sheriff's Office, won Tuesday's Republican primary election for sheriff, earning 61.5% of the vote in a race against current Patrol Lieutenant Jason Buckley. With no Democratic candidate running in the November general election, Watkins is in line to replace retiring Sheriff Brian Asbell.
"I've been lucky enough to be on Sheriff Asbell's leadership team for the last four years, so I've learned a lot from him; he's my mentor," Watkins said Wednesday. "We'll continue to do some of the projects that he was working on; I'll continue those in the future.
"There's a lot of challenges ahead, that we all know that. But I've been dealing with those challenges. I've been the Public Information Officer, (and) I've been doing a lot of the sheriff's duties already with Sheriff Asbell's help. So now it's just taking it to that next level."
Among the major issues facing the sheriff's office, Watkins said having enough corrections officers tops the list.
"Staffing and recruitment, right now that's our No. 1 issue. The jail right now is at critical staffing levels right now, so that's the first thing I'm jumping on even as of today," said Watkins, adding the department is also preparing for the Illinois SAFE-T Act to become law at the start of next year
"Just trying to navigate through the no-cash bail on that starts Jan. 1, and the infrastructure is not really set up yet for that. So we are working very hard right now to get through that to be ready for Jan. 1."
A graduate of Limestone Community High School, Watkins served in the U.S. Air Force immediately following graduation. He spent time deployed in Iraq and served in the Air National Guard. Shortly thereafter, he joined the Peoria County Sheriff's office in 2004 as a corrections officer.
Watkins says department transparency and community outreach will also be among his priorities.
"Sheriff Asbell did a real good job of getting out in the community (and) using our social media to show how honorable the profession is," said Watkins. "There's a lot of information people out there don't know about the sheriff's office. So I think you're going to see me out there a lot; I want to hit the ground running on making sure everybody knows who their sheriff is, who their deputies are, and having that positive interaction with people."
During his time with the sheriff's office, he has also served as patrol deputy, lieutenant, director of courthouse security and now as captain. In 2015, Watkins won Deputy of the Year as part of National Police Week observations.
He has also served as the vice president of the police union, as a member of the Central Illinois Emergency Response Team, on the FBI Safe Streets Task Force, and on the Weapons of Mass Destruction SWAT team in Illinois.
Watkins graduated from Northwestern University School of Police Staff and Command after participating in a program designed to prepare mid- and upper-level officers for senior command positions. Watkins is finishing his bachelor of arts in organization leadership at Lincoln College.
Outside of his career in law enforcement, Watkins served on the Board of Directors at FamilyCore, a Peoria-based nonprofit that works alongside schools, the court system and other service agencies to assist families in need and provide outlets to counseling, intervention, preventative education and other support services.
Watkins launched his candidacy for sheriff in January, just over a month after Asbell told the Peoria County board he would not seek another four-year term.
"I'm just honored to earn the amount of votes that I did," said Watkins. "It was a good six months, where I've met a lot of new people, and I'm just very thankful for all the support I had."
We depend on your support to keep telling stories like this one. You – together with donors across the NPR Network – create a more informed public. Fact by fact, story by story. Please take a moment to donate now and fund the local news our community needs. Your support truly makes a difference.