Bartonville fire official apologizes for using racial slur in viral video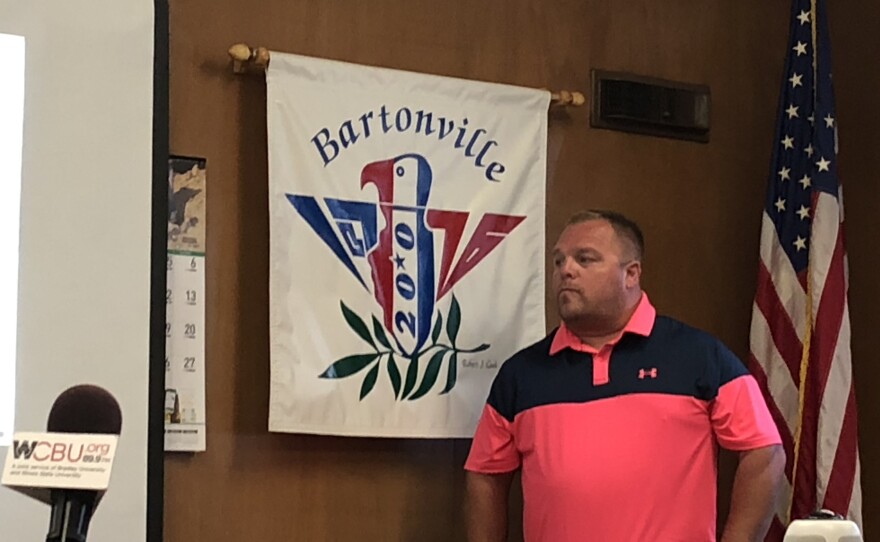 1
of
2
— 220822 Zachman.jpg
Bartonville volunteer assistant fire chief Drew Zachman makes a public apology for using a racial slur in a video shared on social media during Monday's village board meeting.
Joe Deacon / WCBU
2
of
2
— 220822 Ricca.jpg
Bartonville mayor Leon Ricca sits between village attorney Chris Jump and clerk Michelle Carr-Bruce during Monday's board of trustees meeting.
Joe Deacon / WCBU
Bartonville assistant fire chief Drew Zachman offered an emotional public apology Monday night for his use of a racial pejorative in a short video shared across social media outlets.
"This video is not reflective of my values or my character," a contrite Zachman said at the beginning of the public comments portion of the village board meeting. "I want to take this time to sincerely apologize to anyone that I offended, including my family, my wife, my kids, and the Bartonville community, which I have proudly been able to serve the last 20 years of my life, and to the fellow peers of mine in the fire service.
"I am committed to proving that, from this day forward, this mistake does not define me or who I am as a person. I will do everything in my power to learn from this mistake and grow in a positive manner."
The brief TikTok video in question, taken nearly four years ago, shows Zachman uttering the slur at the conclusion of a New Year's greeting. He appears to be intoxicated at a private residence, and the remark is not directed at anyone.
Zachman, who is employed in the village's public works department, declined an opportunity to provide any additional comment after the meeting that saw several trustees suggest cultural sensitivity training for all Bartonville employees and volunteers.
"If you know Drew, you know he's sincere, and I think hopefully this will be the end of it," Mayor Leon Ricca said after the meeting. "If we have that type of training, we can prevent this from happening in the future, maybe."
Fourteen residents signed up for public comments, but only six people other than Zachman spoke, including former mayor Rhonda Wolfe and former trustee Bob Lawless. Many suggested trustee Scott Helms has had a vendetta against both the volunteer fire department and Ricca.
"He's been going after this fire department forever and a day, and it's got to stop somewhere," said Wolfe.
After Ricca had to cut off one commenter for unsubstantiated accusations against Helms, village attorney Chris Jump reminded speakers that their comments had to be directed to the village or the board as a whole, and not specific members.
Participating through Zoom, Helms denied having it out for the fire department and the mayor, a claim that drew outbursts of "liar" and "bull" from the audience.
"I've never voted once against the fire department. My only issue with the fire department is when they decline to do anything and they cover it up," Helms said after the meeting in a phone interview. "They leave a lot out, so they only tell you just enough information and that's what upsets me. We never give the full story."
Lawless said Zachman's years of service to the village should not be undone by one inappropriate comment.
"No one in this room, in the gallery, is perfect. No one ever has been and no one ever will be," said Lawless. "I've said some things in my career that I've regretted and I wished I could take back, and everybody in this room has done the same. Everybody in this room has done this, and if you say that you haven't, you're either lying or in denial.
"With that, when you say something like that (slur), it's out of weakness, frustration, or anger, and sometimes just stupidity. But to crucify somebody that once said something over four years ago, and then to put it on social media is unconscionable."
We depend on your support to keep telling stories like this one. You – together with donors across the NPR Network – create a more informed public. Fact by fact, story by story. Please take a moment to donate now and fund the local news our community needs. Your support truly makes a difference.