Peoria Safety Network makes final preparations for home visits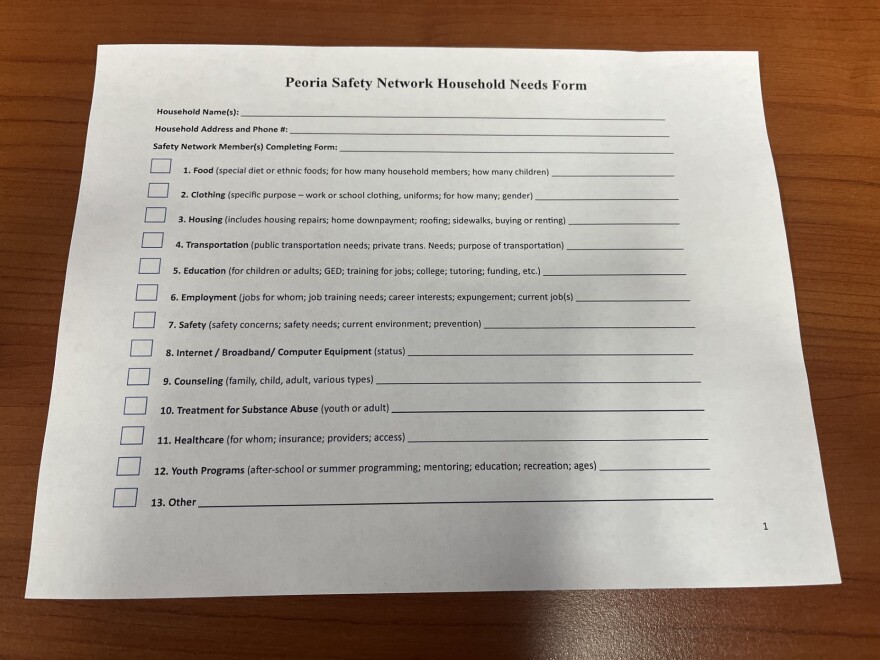 The June meeting of the Peoria Safety Network outlined final preparations for turning planning into action.
On Saturday, June 10, around 60 members of the crime reduction organization will visit just under 30 homes in a one block radius including West Marquette and West Antoinette Streets. Organizers say the area was chosen based on two factors: population density and level of crime.
The outreach teams of two visit just one house each. They bring a loose script to help deliver a unified message, a needs assessment including categories like clothing, food and transportation and a few small gifts for each household.
The gifts include $25 Visa Gift cards donated by Peoria Community Against Violence's Ken Godbolt. They also have magnets from the Peoria Public School District sharing school schedules and immunization information. Outside the homes, the Peoria Area Food Bank plans to provide each house with a box of non-perishable items.
The resources, which Peoria Mayor Rita Ali refers to as "door openers" are intended to ease into starting conversations with the households. Ali says it's important each team only visits one house to begin establishing a relationship.
"It's not just one and done, and that's one thing that we are committed to," she said. "That we consistently follow up. We know that not being consistent is what causes failure."
Ali says it's not entirely determined where the data collected on these visits will go and how it will be compiled, but families with urgent needs will be connected with resources through the assistance of IRIS. IRIS is an integrated referral system, recently touted by the Peoria Police Department, which allows aid organizations to communicate with each other and record the outcome of referrals.
But the Safety Network isn't only planning for the future after the visits, they've also been laying the groundwork ahead of time. Last week, a group led by Peoria Friendship House's Marcellus Sommerville and Product of the Project's Antwaun Banks visited the homes ahead of time. They gave them a flier explaining Saturday's visit and complimentary Park-A-Palooza passes provided by the Peoria Park District.
Banks says people they visited were forthcoming with information. He told them to start preparing lists of things they might need.
"We really stress the fact that we're there to help them," Banks said. "We're coming to the area, because we know where there are some problems, and we want to be the solution."
Banks' team also collected information for the Safety Network: what houses have dogs, what houses have children, what houses might need a Spanish speaker to help overcome a language barrier and what houses appeared to be boarded up or uninhabited.
"It was great for us to go there, meet them, break the ice," said Banks. "Let them know we will be there for them. And I think that word of mouth from the residents will help us ease what we are trying to do."
Peoria City/County Health Department Director of Epidemiology and Clinical Services Katy Endress also helped with research ahead of the Safety Network's visits. She found more information on home occupants, who was renting and who was a homeowner.
She says having as much information as possible ahead of time helps the organization determine what a home might need before they even step through the door. The next step is getting specifics.
"In order to equitably, you know, eliminate health disparities, we need input from the people that we're intending to serve," Endress said. "And that's just what the Safety Network is trying to do here in reaching out to these households and seeing what their individual needs are."
Endress is one of the volunteers visiting a home on Saturday. Other volunteers include representatives from Peoria Public Schools, Illinois Central College, Art Inc., the Peoria Police Department, Goodwill Industries of Central Illinois and many more.
"I think that the collective is what makes us so strong," said Banks. "You got all the resources there. And we are all in one room."
Mayor Ali says the Safety Network plans on spending around six months focusing on just one block, before potentially tweaking their model based on feedback and moving to a new location.
"Our relationships have to be strong in order to build strong relationships with these neighborhoods with these targeted blocks," she said. "And so I think we finally have our act together and we're ready to go out and hit the streets and hopefully we will be received well and begin changing lives."
The next Safety Network meeting is Friday, July 14. These meetings are open to the public.
We depend on your support to keep telling stories like this one. You – together with donors across the NPR Network – create a more informed public. Fact by fact, story by story. Please take a moment to donate now and fund the local news our community needs. Your support truly makes a difference.