Tri-County Regional Planning Commission may seek out new agency to take on ownership of Hanna City Trail project
The Tri-County Regional Planning Commission may be able to throw a life preserver to the Hanna City Trail project before it withers on the vine - if the right partner can be found in time.
The effort to purchase and convert the 25 miles of decommissioned railroad in Peoria and Fulton counties into a hiking and biking trail appears moribund after the Hanna City village board voted Tuesday to terminate its involvement in the project.The village was to be the owner of the trail.
TCRPC executive director Eric Miller wants to gauge the possibility of finding another agency or nonprofit to step in and take over Hanna City's leadership role on the project.
"This project's been in our large transportation plan for a number of years. We always knew it's going to be a heavy lift for no matter what agency it was going to be, especially the small town of 1,200 (Hanna City)," he said.
Miller noted Illinois Department of Natural Resources Director Colleen Callahan said the trail remains a priority for her department, but they need a partner to implement it. He suggested the federal Surface Transportation Board may offer another railbanking extension, which would provide time for another agency to step in.
But the window of opportunity would be short, and the new agency would essentially start from square one, noted Miller.
"We would have to reapply for any grant and re-ask the funding agencies, the matching agencies, to re-up their commitment to the project," he said.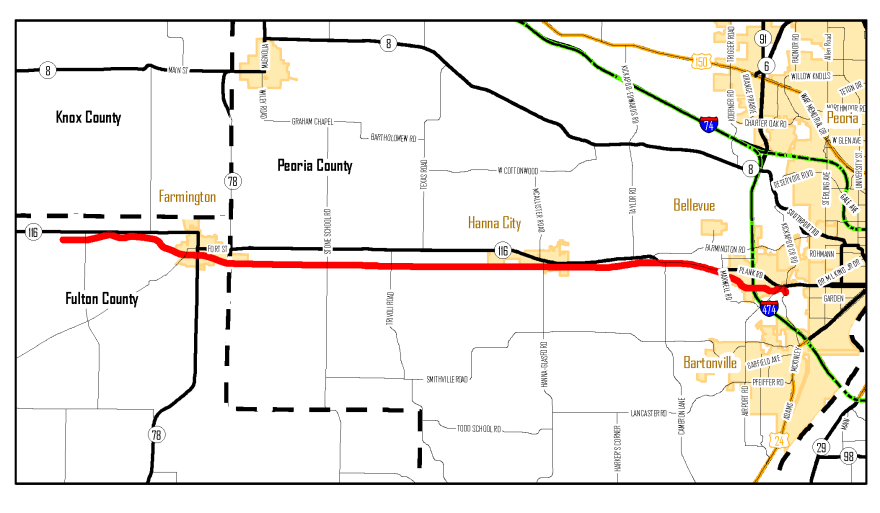 TCRPC chairman Mike Hinrichsen is in support of trying to find another solution before giving up on the trail.
"At this point, I think we need to continue to put our shoulder behind this in any way that we can. All the work that's been done, to just let this die now, just doesn't seem right for everyone," Hinrichsen said.
A grant from the IDNR was supposed to pay for the lion's share of the $1.96 million purchase cost to acquire the decommissioned rail line from Union Pacific. Hanna City sought to share the remaining 20% of the acquisition costs with the city of Farmington and Peoria County.
Peoria County board chairman Andrew Rand said they started to get cold feet when sharing liability and operational costs became part of the conversation. He said the full scope of the potential liabilities aren't fully known.
"This project isn't in as great repair as many people might think. It's not like basically a five foot pathway from Peoria to East Peoria. It's just not. So we would do enthusiastically support the commission's exploration of the what-if potential," he said.
IDNR also recently notified the village of Hanna City the agency would only reimburse for 80% of a discounted appraisal, or $864,000; rather than the full $1.6 million originally expected.
Woodford County Board member Barry Logan said while it's a worthwhile project, he wouldn't want the TCRPC directly involved with the Hanna City Trail project.
Miller said that wasn't the goal of taking a closer look at the possibilities.
"We are not in the trail operating business," he said. "We are in the planning business. We are in the grant writing business. We are in the collaboration business. So we will look for an appropriate party/agency/combination of those effects to see if there's an interest in pursuing this."
The TCRPC's executive committee is set to further discuss the matter later this month.
Regardless of the final outcome, Miller said Hanna City's leaders aren't to blame for what's happened.
"I don't want anybody to go away from this table feeling that Hanna City didn't do their part. They did more than a town could, incurring significant expense, all at the benefit of the region," Miller said. "So I don't want anybody feeling that Hanna City sort of dropped the ball, because they certainly didn't. It was just a large task."
We depend on your support to keep telling stories like this one. You – together with donors across the NPR Network – create a more informed public. Fact by fact, story by story. Please take a moment to donate now and fund the local news our community needs. Your support truly makes a difference.